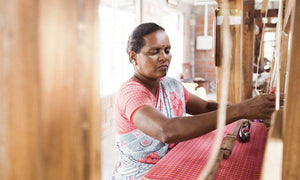 Five P Venture
50 employees - tamil nadu, india
Fabric + Cut/Sew
As we started Soluna Collective, our goal from the beginning was to work with hands over machines at as many steps in the process as possible. When we had the good fortune of stumbling across Five P Venture, we couldn't miss the opportunity to work with them!
"To continuously enrich the value of textile heritage skills by contemporizing the use & relevance without diluting its core values." - Five P venture's Mission Statement
Five P Venture was born with the purpose of sustaining the textile heritage of its village and others around it. As with many traditional hand skills in India, the turn towards machines has left many gifted handloom artisans without a employement. These lack of work opportunities in the traditional textile sector have meant younger generations no longer practicing the skill. The Founders Dev and Sam of Five P Venture noticed this trend and decided to do something about it. Their goal was to provide a "holistic, socio-economically conscious and eco-friendly venture that would preserve heritage skills, alleviate poverty and to give back to the community a sustainable way of living."
Eco Principles
The environment was always part of Five P Venture's mission from the beginning!
They only carry natural fabrics like (cotton, organic cotton, linen, wool and Tencel). Currently at Soluna Collective, are using organic cotton linen and Tencel.

They only work with low-impact or natural dyes that have cleared ESG Standards. All are azo-free.

All dyeing facilities are GOTS certified with a zero liquid discharge wastewater treatment plant on site.

Their facility in Tamil Nadu is solar powered and Green Building certified!
Ethically Made Principles
"Five P's wealth creation follows a format that returns a significant part of the value it generates back to the artisans via salary, dividend and market capitalization." - Five P
While Five P Venture does not hold any specific ethical certification, they do meet all of our ethically made principles! They also working on providing a higher level of living wage and electing a worker representative base. Our goal is to work with them to achieve this and much more!
Shree, the owner of Five P Venture has signed our own internal ethically made agreement and she continues to implement policies that improves the lives of her employees and community.
The best part of Five P Venture's ethical principles is that they were built in from the beginning. They started the company with the priority of providing a "sustainable way of living" to local hand loomed artisans and others practicing textile heritage. They work with the community to build their initiatives and provide more work to a wider range of artisans.
Women Led | Inspiring Duo
A few years ago, both Dev and Sam took a step away from the business. They decided to give CEO responsibilities to Dev's daughter Shree. Shree is a powerhouse in her own right! She graduated with a Masters in International Business from Grenoble Graduate School for Business (GGSB France). After school, she completed a research project on Corporate Social Responsibility by studying the model of Skills Development in the Indian Construction Industry. Shree is also deeply embedded in Five P Venture's core values and feels that her academic training will help her - in our words - kick ass!
Five P Venture's current CSO is Carrie Clark-Kenny. Carrie holds a Doctorate of Philosophy in Archetypal Theory and Mythological Studies from Pacifica Graduate Institute in California. She is a social entrepreneur with interests in the "transformational space between heritage skills, international commerce and the textile industry".