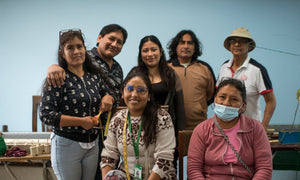 Harkened - Clothing Production
60+ employees - Lima, Peru
Clothing Production
Production
Harkened is a full service clothing production manufacturer located in Lima, Peru. We had the pleasure of meeting the amazing Harkened team in March of 2022 and just fell in love! Founded by the dynamic female duo of Kelly and Ellen, Harkened, feels like a family and it shows in their values. First and foremost, they care about their artisans. They do this by working with Fair Trade Principles such as:
Eco + Ethical Principles
Creating economic opportunities for skilled makers across Peru.
Providing capacity building and ongoing business support.
Providing fair prices and payment terms.
Ensuring good working conditions.
Ensuring there is no forced labour, child labour, harassment or discrimination.
Providing transparency and being accountable to our knitting partners.
Respect for the environment by using local and natural materials and low impact production processes.
Women Led
As with many of our suppliers, Harkened is run by two self identified women. Kelly and Ellen the dynamic duo Co-Owners of Harkened.
Closing The Loop
Harkened is a big believer in closing the loop of their production process - which we love! They went as far as creating an entirely new company called The Endery to make use of yarn waste. In 2021, Harkended collected over 600kg of yarn waste that would have ended up in the landfill and sent it to The Endery for upcycling.