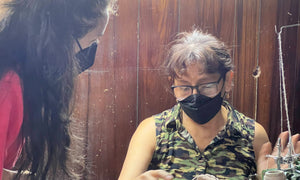 Niko International - Knitwear
30 employees - Lima, Peru
Knitwear
We were introduced to Niko International in late 2019 while looking for cotton knitters in Peru.
Production
All of our garments at Niko are sewn on a machine however, that machine is run by a master knitter who takes an incredible amount time and skill to produce every garment. The machine allows us to create more complicated patterns while also providing a higher level of quality assurance.
Eco + Ethical Principles
Niko was founded in 2007 with the focus on producing "ethically made out of eco-friendly natural fibers by artisans from all over the country." Most of their knitters are located in the cities of Huancavelica, Ayacucho, Puno, and various metropolitan districts in Lima. While many artisans have been forced to move to Lima to find work, Niko wanted to provide the ability for workers to stay in their own cities while still earning a fair wage. Niko is Fair Trade certified and seeeking Guaranteed Membership from the WFTO!
Nina, the Founder of Niko has implemented social actions to help benefit the lives of her employees. They include, "financial aid that artisans receive in personal loans, whenever they need it, and an ophthalmological campaign, including the delivery of glasses".
https://wfto.com/who-we-are#search-wfto-members
Women Led
As with many of our suppliers, Niko International is run by a self identified women. Nina, is the CEO and Founder of Niko International.